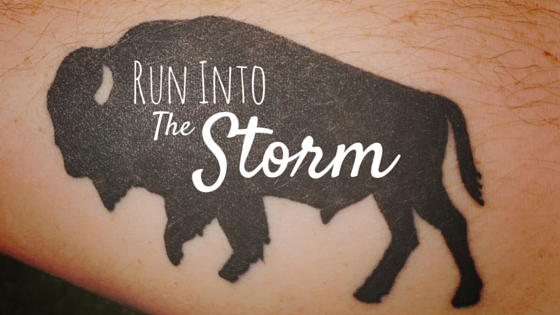 Icons is a series of posts dedicated to images, ideas, music, and art that stirs my soul, tells great stories, defines a part of who I am, or illuminates a core belief in my heart.
ICONS: Run Into The Storm
I have a buffalo tattooed prominently on my right forearm. My wife surprised me a few months back with a date night to the tattoo parlor and I walked away with a piece of art that I see everyday and is pretty conspicuous when I'm wearing short sleeves.
I chose the image of the buffalo, not because it is the mascot of my alma mater (a fact I only remembered about…oh, 30 seconds into the tattoo), but because of a significant part of my spiritual journey and a core belief that I desire to live out of in my life and ministry.
Over the last few years, I have been coming to terms with the fact I struggle with anxiety and depression. Everyday God pours his grace out and I learn how to, not just cope, but work through and get the better of the Resistance in my head and heart.
While listening to one of my favorite podcasts, I heard Pastor David Craig said that the battle with depression is like "being caught in a buffalo stampede."
He continued by saying, like a buffalo stampede, you don't know what started it, you can't predict how long it will last, there is really nothing you can do to stop it… you've just got to ride it out.
I remember thinking, "YES! That's exactly it! That's what it feels like when a cloud of depression come on me. Someone gets it!"
If you've ever dealt with depression, my guess is that this definition of a buffalo stampede rings true to your experience as well.
(I actually contacted Pastor Craig and we had a substantial conversation over the phone. He was extremely kind and compassionate and listened to me share my story.)
So the tattoo on my arm represents a visual reminder of my struggle with depression. There have been and will continue to be seasons where depression will bear down on me like a thunderous herd of bison. There may be nothing that I did to cause it and there may be no way to bring it to an abrupt end… I've just got to ride it out. I've come to see that's the nature of the beast.
There is a second, more positive reason for the buffalo tattoo as well.
The story goes that when a storm comes across the great plains bison and cows react differently. A cow will turn and run away from the storm. What ends up happening is that the cow can not outrun the storm and as it catches up to the worn-out, exhausted cow, the storm overtakes them and their are now stuck in the middle of the storm – cold, wet, and used up.
The buffalo has a different reaction to the storm. Instead of running away from the storm they run into the storm.
Let me say that again: Buffalo run into the storm.
It seems crazy and counterintuitive until you consider how as the animal runs toward the approaching storm only to have the storm pass over them. In effect, the bison cut the storm in half by running into it and then through it.
In life and in leadership, when we see a storm on the horizon – relational conflict, difficult seasons, tough decisions to make – we have 2 choices:
We can run away from the storm but the storm will eventually overtake you – you will have to deal with the difficult person at some point, you will be forced to make a decision and the longer you put it off the few choices you will have, etc. When the storms of life overtake us we usually find ourselves like the poor, wet cow – tired, exhausted, and used up.
I don't want to be a cow. I want to be a buffalo.
It has been my experience that when I move toward conflict, when I head into the storm, the outcome is more positive than when I've avoided it. In the church world, whenever we engage in conflict resolution we engage in discipleship. Don't be afraid to run into the storm.
So, my friends from college might find it strange that I decided to tattoo the school's mascot on my forearm for the world to see.
The truth is the buffalo is more about who I am, the journey I'm undertaking, and the kind of leader I want to be.  
Exit Question:
Do you have a tattoo with an interesting story behind the ink? Tell us your story in the comments. I can't wait to hear from you.