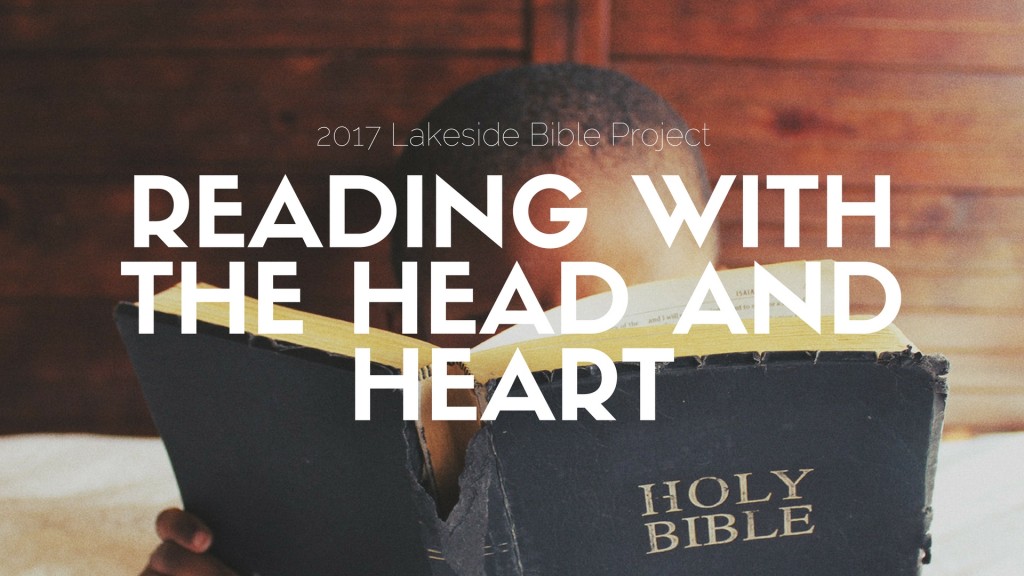 (This morning I shared something with my church family that has me super excited. This year, rather than put out a Bible reading plan at the first of the year, we are going to take the next 52 weeks and help our people engage their Heads and Hearts in diving deeper into God's Word. We started recording podcasts, planning some seminars, and reached out to other ministries for resources to help us get into God's Word so that God's Word can get into us. From time to time, I'll share our journey here on the blog. If you would like to join us on this journey, grab your Bible and dive in! I'd love to travel alongside you.)
In 6 days we usher in a new year and say goodbye to this one. What if, one year from today, you could look back and say that in 2017 you grew in your personal relationship with Jesus, in your intimate friendships with God's people, and in radical influence with those who don't know Jesus? What will you have done to make these things a reality?
I believe that there are many ways to growing in each of these areas but there is one thing that you can do to grow in all three of these areas simultaneously: That is to passionately and intentionally engage in reading your Bible.
God's Word is the one place where we learn about who God is, who Jesus is and what He came to accomplish. We read about and enter into the story of God's people from creation and into eternity. We hear the voice of Jesus calling us to mission and He sends the Holy Spirit to transform and empower us for spreading the Good News to a broken, hurting world desperate for life.
When we read God's Word, it changes us and the world around us.
Maybe you've read through the Bible every year. Maybe this is the first year you've considered making the commitment to read everyday. Regardless of whether this is your first time or the hundredth time, we want to help you get into God's Word so that God's Word can get into you.
Starting this week, we are launching a brand-new initiative to help you engage with God's Word on two fronts so that you can read with your Head and your Heart. We want to help you understand what your reading and encourage you to apply it to your lives. Through a daily Bible reading plan, audio podcast teaching, resources, and events we want to make 2017 the year of Biblical Engagement at Lakeside.
A ministry called The Bible Project has graciously allowed us access to use their video content as a launching point for us to understand God's Word in a creative and powerful way. The Bible, written over thousands of years, by dozens of authors, writing in every imaginable style and genre is God's Word about His Son, Jesus. It tells a unifying story of how God, through Jesus, rescues and redeems His people in order that we might have a real relationship with Him today and into eternity. The Bible Project, using sound teaching and creative storytelling helps to make sense of the larger narrative of God's Word in a way that is meaningful and immensely practical.
Each week, we will release an audio podcast  (and in the coming days and weeks we will release through iTunes as well as other internet resources) filled with conversations, teaching content, and encouragement for your journey into God's Word. We will also link to a Bible Project video or other resource to help you grasp what is happening each week as you read and engage with God's Word. Throughout the year, we will also provide the whole church with teaching and tips to help you get the most out of reading and applying God's Word in your life.
This is the final week of 2016 so to prepare yourself for 2017, check out the first podcast (bonus: I linked the 2nd podcast below too), the reading plan, and a video from the Bible Project giving you an overview of what the Bible is all about:
Podcast Episode 1: Get Into God's Word
Podcast Episode 2: Genesis 1-11
The Bible Project: Read Scripture
Bible Reading Plan
Other Resources
The Bible App
Read Scripture App
Nothing gets me more amped than thinking about what is possible when people meet with Jesus and begin to live like Jesus. That's what happens when we read God's Word. Again, imagine the possibilities of what is possible if we as a church body passionately and intentionally seek the voice of God and allow Him to grow us Up, In, and Out this year. Anything is possible when you get into God's Word and God's Word gets into you.
peace,
Micheal