In my sermon yesterday I tried my best to address some of the problems we see happening around us as it relates to issues of race, divisiveness, and hateful rhetoric.
Recently, Rasmussen revealed the results of a poll that said 60% of likely voters believe that race relations in America are worse than ever before. The poll was clear that "We the people" are deeply divided. We are even divided on the solutions for how to address these divisions with some advocating for more Governmental laws and oversight and some wanting to see more personal responsibility and a strengthening of the home.
Obviously, I believe that what the world needs more than anything is the Good News of Jesus. The results of the pain and hurt that we see daily on our television screens and read about on the internet are indicative of what happens when a culture removes God – the author of life, liberty, and freedom – and attempts to pursue these things apart from Him. We pay lip service to the Father and we offer up hashtag prayers and then the world continues on its own way searching for peace that it cannot find outside of God's will and ways.
What God wants is for us to TURN from our sin and our ways of living on our own, to ABIDE with Him in relationship, faith, and trust, to EXPERIENCE forgiveness, grace, and love in Christ Jesus, and be transformed by His Holy Spirit.
Two thousand years ago, the churches in Galatia were dealing with the same divides that we are dealing with today. Fighting over race (Jew and Gentile), arguments between the genders (male and female), and class divides (slave and free) were all causing pain, disunity, and frustration. In Galatians 3:26-29 Paul boldly issues this statement:
So in Christ Jesus you are all children of God through faith, for all of you who were baptized into Christ have clothed yourselves with Christ. There is neither Jew nor Gentile, neither slave nor free, nor is there male and female, for you are all one in Christ Jesus. If you belong to Christ, then you are Abraham's seed, and heirs according to the promise.
The Word of God is crystal clear… No matter our differences – skin color, economic background, or sex – we are ONE in Christ. Jesus has leveled the playing field. Jews are not greater than Gentiles. Men are not better than women. Freemen and Slaves can share in table fellowship with one another because of the sacrifice and resurrection of Jesus Christ.
Admittedly, this is the ideal of the Kingdom and we aren't quite there yet. This is one of those "already/not yet" realities that we are still striving to achieve. We've seen progress though. I believe that the power of this statement was used mightily by abolitionist to once and for all break the chains of slavery. The scriptures were never meant to be used to declare "men good, woman bad" but thankfully this passage flies in the face of that backwards thinking. The last year or so has tested our resolve to be a "post-racial" society. We, like Dr. King, still dream of a day when we will judge people by the content of their character and not the color of their skin.
So what can we do? How can we work toward making Paul's declaration about unity applicable to our lives today?
Yesterday I made the case that in order to be RECONCILED to one another we must REFLECT God in RELATIONSHIP.
God is One yet He is also three. This is the majesty and mystery we call The Trinity. God is One and God is relationship. He exists in relationship as The Father, The Son, and the Holy Spirit. Stephen Saemunds in his book Ministry in the Image of God: The Trinitarian Shape of Christian Service draws from the Gospel of John to unpack the loving and working relationship that exists between The Father, The Son, and The Holy Spirit. He says that 4 things are evident in the character and nature of the Trinitarian relationship:
Full EQUALITY
The Father, The Son, and The Spirit each have separate identities and roles but each of them treat one another with full and mutual equality.
Glad SUBMISSION
We see glad submission to one another in the way that The Son "who, being in very nature God, did not consider equality with God something to be used to his own advantage" but submitted to the will of the Father and willingly went to the cross.
Joyful INTIMACY
John 1:18 declares that Jesus is Father's only Son and is "close to the Father's heart" and in John 10:30 Jesus says that he and the Father "are One."
Mutual DEFERENCE 
John 3:35 tells us that The Father loves the Son and, even though He created all things, The Father "has placed everything in (Jesus') hands."
All of this to say:
The way that God exists in relationship has great implications for how we ought to live in relationship with one another. 
Imagine the impact in our churches and in the culture if we reflected these characteristics in our relationships with one another. Genesis 1:26-27 tells us that we have been made in the image of God. What if we really lived out this calling embedded deep within our DNA by the God of relationship who exists in relationship?
Imagine if we treated everyone around us with Full EQUALITY seeing everyone as a person created by God in the image of God.
Imagine living in Glad SUBMISSION to one another and doing away with selfish living and self-serving decision making.
Imagine what Joyful INTIMACY would look like as we draw closer to the ideal of enjoying unbroken and joyful fellowship together.
In a world devoid of honor and humility, imagine what would happen if we lived in Mutual DEFERENCE to one another setting aside our own preferences for the sake of others.
There is hope.
Recently Barna released results from a survey that said 73% of US adults believe that the church has a role to play in racial reconciliation. 73% of the country is looking to God's people to reflect God in relationship and point the way to life in the midst of a desperate and dying world.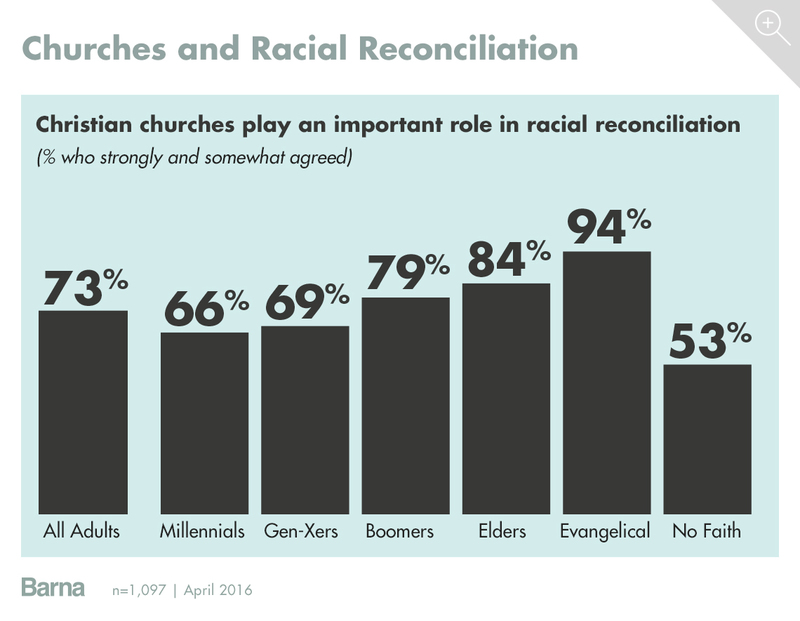 2 Corinthians 3:17-18 says, "Now the Lord is the Spirit, and where the Spirit of the Lord is, there is freedom. And we all, who with unveiled faces contemplate the Lord's glory, are being transformed into his image with ever-increasing glory, which comes from the Lord, who is the Spirit."
It is time for us to reflect to goodness and the glory of The Father, The Son, and The Spirit and to make a difference in this world.
It's time to shine, Church!