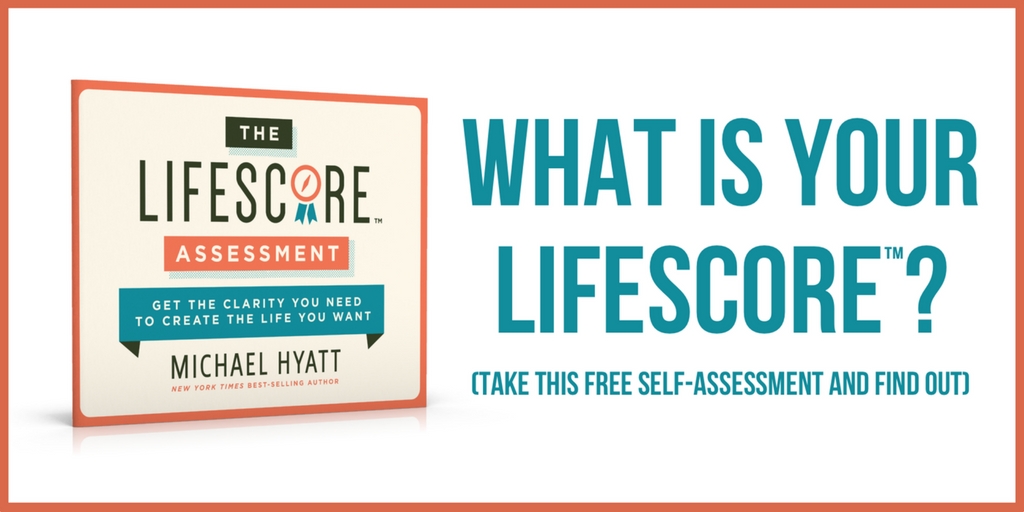 I admit it.
I absolutely love taking assessments in order to learn a little more about myself and what might make me tick..
Self-discovery can be hard, so any tool that makes
it easier is a win in my book.
That's why I love this free tool from my friend, Michael Hyatt.
You can actually score your LIFE.
Sounds weird, I know, but hang with me.
In ministry, I like to say, "What matters, gets measured." That's why we look at attendance, new ministries, and community engagement in order to help us see  what's working, what's not, and what are our big opportunities to improve.
With work or home it might be a little easier because we could use our income as an indicator. But what about our health, or our relationships, or our intellectual growth?
Now there is a great tool called the LifeScore
Assessment that helps you do this in less than 10
minutes–and you can get it free for a limited
period of time.
All you do is quickly rate yourself on a scale of 1-12 in each of life's ten domains.
You read a series of statements that describe specific
situations and pick the one that most closely aligns
with where you perceive yourself to be. Each one
corresponds with a number, and those add up to your
LifeScore.
It's incredibly simple. But I promise it will instantly
show you your opportunities to grow this year. In fact, if you took this assessment once a quarter  you would have a built-in way
to measure your growth over time and stay motivated toward what matters most to you!
It's 100% free but it's just up for a little while. Take
it now while you can:
Enjoy!
– Felker
P.S. If you want to improve something, start measuring it. The LifeScore assessment finally gives us an easy way to do this for every area of our lives. Here's where to find out your number:
Get your FREE LifeScore Assessment RIGHT NOW!
P.S.S. The ebook I posted last week is still available but for TODAY ONLY! Get Achieve What Matters in 2017. Don't miss the opportunity to hear how some of today's best leaders prepare for the new year.